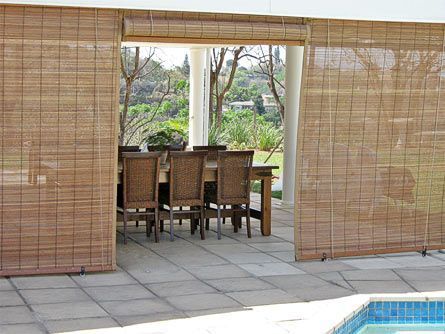 Roller balcony blinds
Roller balcony blinds in Bangalore are available in various designs and color options. These roller balcony blinds can be customized to coordinate with your personal design preferences. Roller blinds provide excellent noise and light isolation and a higher level of security. Light shading, heat reduction, glare control, and dim-out roller blinds minimal amount of fabric, lay flat against the window, and roll up to let a maximum amount of light into the room.
Roller balcony Blinds in Bangalore are with perforations that are skill full balanced to block the maximum amount of light flow without obstructing the outside view. These roller blinds in Bangalore can be mounted inside the window recess. Roller blinds can be teamed up with curtains, valances, pelmets and swags, and tails to give a coordinating look.
When it comes to simple, practical, and affordable outdoor dressing solutions, Outdoor Roller Blind – Balcony blinds is one of the economical and outdoor sunshade top choices for balconies, yards, patios, restaurants, and cafes. This sunscreen gives excellent sun protection with various textures and colors of fabric selection that will add style to your outdoor areas and privacy.
Roller balcony blinds can provide a captivating touch of nature and texture to any house. To talk to one of our design consultants about using Roller balcony blinds in your home, give us a call at +91 9880747100

PVC Outdoor Waterproof Blinds
Roller balcony blinds in Bangalore are made from special PVC and acrylic fabrics. The former ensures a lasting 'newness of your exterior blinds and the latter allows light to pass freely making it a perfect shield. Our waterproof roller blinds are perfect for home and business use. We provide a wide enough variety of waterproof Roller balcony blinds that match your unique design, style, and layout.
The Roller balcony blinds in Bangalore and outdoor balcony blinds are not only safeguarded against water but also heat and dust giving protection all year round. The outdoor Roller balcony blinds in Bangalore are sealed panel-wise hence damage can be easily repaired by merely replacing a panel rather than replacing the whole blind.
Stainless steel guides and cables provide long-lasting support and life to your balcony blinds. Perfectly suited as exterior shades / outdoor blinds for sea-facing resorts, open restaurants, food courts, roof-top cafeterias, and gardens.
Sun control Roller Balcony Blinds
can enlighten any room through the use of colors, design, and texture. Due to Vibrant colors, Roller balcony Blind is a suitor to any home and office.
Roller blinds also available in Printed and Plain Fabrics which are stylish, easy to operate, and maintenance-free, they add beauty and elegance to the interior as well as a wonderful touch to homes and offices from mild to room darkening, a perfect light control as per the needs.
How to maintain Balcony Blinds
Blinds for balcony in Bangalore are easy to maintain and clean. Since they are designed to hold up in rush weather conditions you can gently remove them down to rinse off pollen, dust gently. For tougher spots, a bit of diluted, mild dish soap and a soft sponge should do the trick.
Do not use a power washer as this may cause the shade to rip or tear.
Installation Outdoor Balcony Blinds
All blinds for balcony in Bangalore will have their own installation hardware and instructions, most installations are very easy. Brackets and wood screws are included. Though depending on the type of surface you will be installing on (such as brick, stone or metal) you may need alternative screws like masonry or self-tapping screws. For large shades, you may also need an extra set of hands to help support the shade.
If you Order Balcony blinds in Bangalore from https://balconyblindsbangalore.com/, then the installation process is taken care of from the company side with installation chargers applied.