Outdoor PVC Blind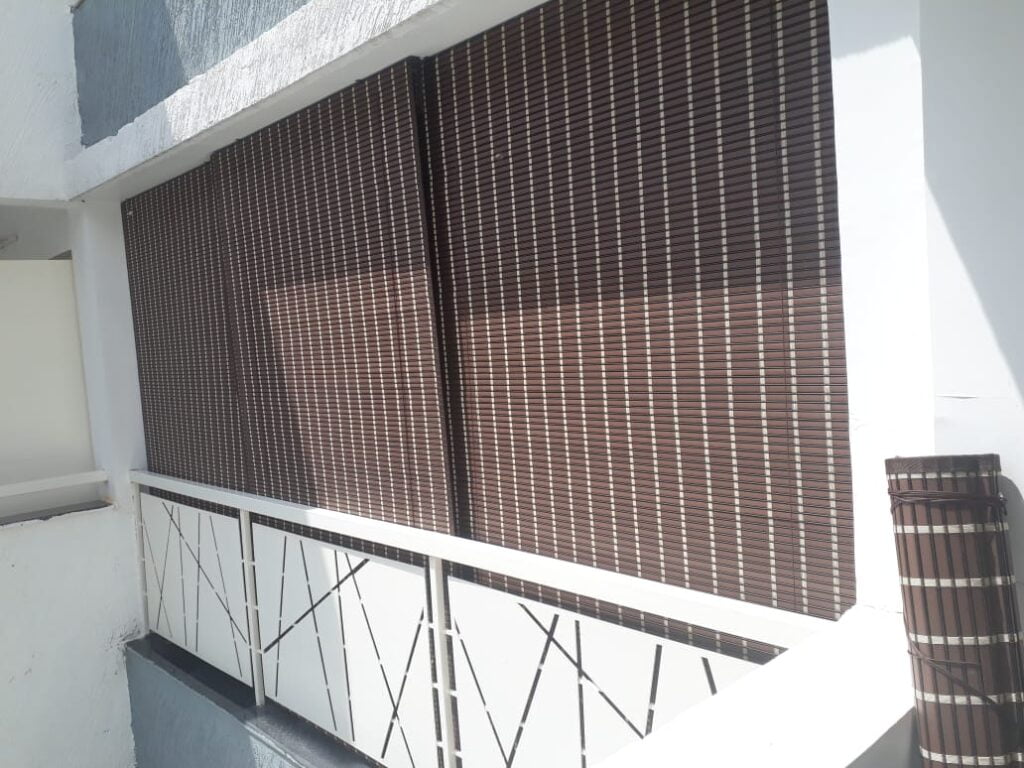 Outdoor PVC balcony blinds in Bangalore are installed to the outside of your window or patio to block the sunlight partially before they reach your interior, makes the room cool and greatly reducing air-conditioning costs. It is much more effective at stopping heat than interior shading products like interior blinds or residential window tinting and glass film.
The outdoor balcony blinds and shades are sealed panel-wise hence damage can be easily repaired by merely replacing a panel rather than replacing the whole blind.
Stainless steel guides and cables provide long-lasting support and life to your PVC balcony blinds in Bangalore. Perfectly suited as exterior shades / outdoor blinds for sea-facing resorts, open restaurants, food courts, roof-top cafeterias, and gardens.
Balcony Blinds Price
| | | | |
| --- | --- | --- | --- |
| Price | Threading | Colors | GST |
| Rs.75/- per SQFT | Without side-borders | Brown, White, Cream, Grey, Green & More | 18% GST |
| Rs.85/- per SQFT | With side-borders | Brown, White, Cream, Grey, Green & More | 18% GST |
| Rs.115/- per SQFT | PVC Blackout | Brown, White, Cream, Grey, Green & More | 18% GST |
| Rs.135/- per SQFT | Transparent sheet attached | Brown, White, Cream, Grey, Green & More | 18% GST |
Heat Protection
PVC balcony blinds in Bangalore screens are designed to cut off 80 percent of the heat and block harmful UV rays that come into your house. Our heavy-duty sun control balcony screen can reflect, and even dissipate heat and light before it enters your home.
SIMPLE AND ECONOMICAL OUTDOOR BLINDS
When it comes to simple, practical, and affordable outdoor dressing solutions, Outdoor Roller Blind – PVC Balcony blinds in Bangalore is one of the economical and outdoor sunshade top choices for balconies, yards, patios, restaurants, and cafes.
This PVC balcony blinds in Bangalore sunscreen gives excellent sun protection with various textures and colors of fabric selection that will add style to your outdoor areas and privacy.
Usage of PVC Outdoor Blinds
1. Balcony in apartments and individual houses.
2. In patio and for covering gazebos or semi-open spaces.
3. For covering Car shed
4. For use in the hill station area
Installation Outdoor Balcony Blinds
All blinds for balcony in Bangalore will have their own installation hardware and instructions, most installations are very easy. Brackets and wood screws are included. Though depending on the type of surface you will be installing on (such as brick, stone, or metal) you may need alternative screws like masonry or self-tapping screws. For large shades, you may also need an extra set of hands to help support the shade.
If you Order Balcony blinds in Bangalore from https://balconyblindsbangalore.com/, then the installation process is taken care of from the company side with installation chargers applied.
How to maintain Balcony Blinds
PVC balcony blinds in Bangalore are easy to maintain and clean. Since they are designed to hold up in rush weather conditions you can gently remove them down to rinse off pollen, dust gently. For tougher spots, a bit of diluted, mild dish soap and a soft sponge should do the trick.
Do not use a power washer as this may cause the shade to rip or tear.
procedure :
our employee will visit your place and show the samples of the product .
After the design is finalized, our employee takes the measurements.
Give an quotation to your requirements.
After order is confirmed, 50% payment should be done in advance.
Within the 3-4 Days the installations will be completed.