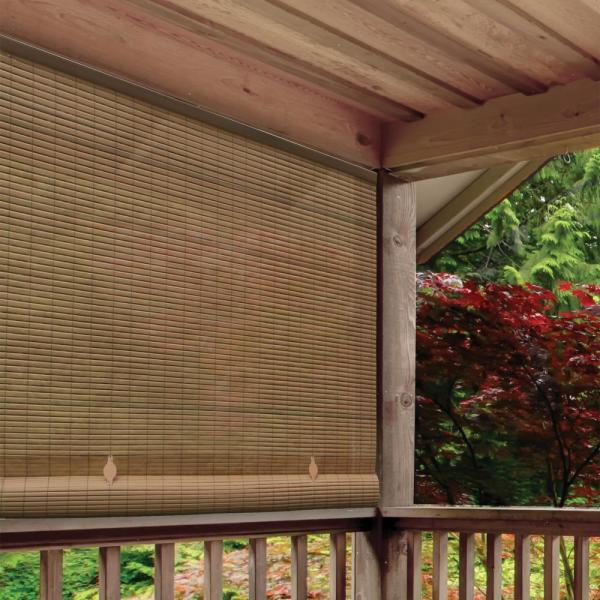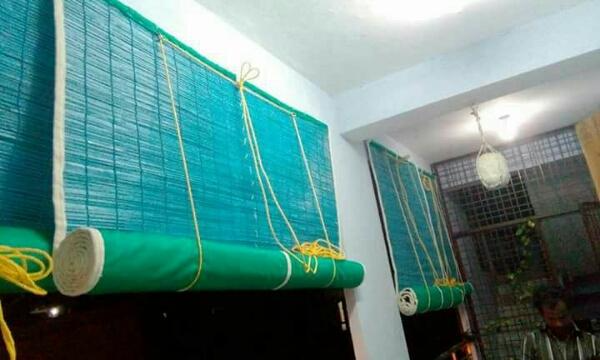 Indoor and Outdoor Bamboo Blinds
Bamboo blinds are a type of window covering used to block out the sun and are different from standard window shade. We provide top quality Bamboo balcony blinds in Bangalore. when they are open they are visibly smooth, not bumpy or ribbed like typical vertical shades or blinds. Bamboo Blinds are being increasingly used by people who want to make their windows look different.
If you have an outdoor balcony area that gets direct sunlight, exterior Bamboo balcony blinds in Bangalore may be the perfect alternative to provide some needed shade. They can be usually opened with a cord mechanism, allowing the user to adjust the height of the covered area.
Bamboo balcony blinds in Bangalore can be cleaned and maintained easily with the help of Furniture Polish. When maintained properly, they can last for a much longer time. These window blinds are made from natural timbers and brings the natural feel to your home and office.
MOST ECO-FRIENDLY OUTDOOR SHADES
To add beauty and looks elegant to your outdoor space, one of the top choice of outdoor shades is Bamboo Balcony Blinds, made from natural bamboos provide a natural appearance and homely for outdoors. It gives a warm and calm atmosphere. These Bamboo balcony blinds in Bangalore also suitable for indoor use.
A custom-made blinds with a various style that you can choose from natural shades, combination of black & white colour or any other colour design.

5 Reasons To Choose Bamboo Blinds
1. VERSATILITY IN DESIGN
Bamboo is an incredibly versatile material. At The Shade Store, bamboo is available in Wood Blinds, which are traditional slatted blinds (also known as venetian blinds), and it can also be woven into a fabric-like material for use with Roman Shade and Roller Shade designs.
Bamboo balcony blinds in Bangalore are top quality product which give long durability.
2. BAMBOO IS ON TREND
The look of natural wood and organic materials is in. Many home designers in Bangalore are incorporating unique uses of wood in their designs, including their feature walls, exposed beams, and in window treatments.
The natural texture in bamboo blinds can also fit in with any style of décor. Bamboo balcony blinds in Bangalore can straddle styles, They can be modern, tapeless in black or gloss white, retro with fabric tapes, or totally traditional, especially when the blinds' wood colour ties into the house.
3. WARMTH + TEXTURE
Bamboo balcony blinds in Bangalore provides variety of colours and stains available allow you to add texture in a multitude of ways: choose a lighter bamboo blind to blend in with light walls and white trim for a subtle look, or go with a bold dark stain or woven wood to make a statement.
4. ECO-FRIENDLY MATERIAL
If you're looking for a low-impact, sustainable material, Bamboo balcony blinds in Bangalore is an excellent choice. We are committed to protecting the environment, and all of our wood blinds and woven wood shades are sourced from eco-friendly materials.
5. LIGHT FILTERING + BLACKOUT OPTIONS
Finally, the last reason bamboo blinds and shades are so versatile is that you can choose light filtering and blackout options depending on the needs of your particular room.
Woven wood shades have both privacy and blackout linings available. These styles work well in bedrooms or bathroom, where light blockage and a high degree of privacy are a priority. So buy Bamboo balcony blinds in Bangalore today !
Bamboo blinds can provide a captivating touch of nature and texture to any house. To talk to one of our design consultants about using bamboo in your home, give us a call at +91 9880747100
Installation Monsoon Balcony Blinds
All blinds for Waterproof balcony in Bangalore will have their own installation hardware and instructions, most installations are very easy. Brackets and wood screws are included. Though depending on the type of surface you will be installing on (such as brick, stone, or metal) you may need alternative screws like masonry or self-tapping screws. For large shades, you may also need an extra set of hands to help support the shade.
If you Order Balcony blinds in Bangalore from https://balconyblindsbangalore.com/, then the installation process is taken care of from the company side with installation chargers applied.
FAQ about Bamboo blinds
1. What's the difference between natural bamboo and woven wood blinds or shades?
Bamboo window treatments are made from the natural fibers of the bamboo plant. Woven wood treatments are made from a combination of bamboo, rattan, jute, grasses and reeds to create a variety of color options. Speaking of color, good to know that seasons can change the color of these natural reeds, grasses, etc
2. Do bamboo shades provide enough privacy?
While the texture and weave of bamboo window coverings allow for some filtered light to come through naturally, you can easily control any 'see through' by simply adding a privacy or blackout liner. Window panels or drapes can also be used with these versatile shades to minimize views from the outside while creating a truly custom look on the inside.
3. Is bamboo a smart design choice?
Still on trend after all these years (bamboo was first used in China 5,000 years ago), bamboo window treatments remain a constant go-to in the stable of many designers for many reasons.
4. Are bamboo window treatments waterproof?
Bamboo thrives naturally in wet, tropical environments, so a little rain isn't going to hurt. That's why they're a great option for the patio and other exterior spaces.
5. Are bamboo blinds affordable?
Yes offer course! Bamboo balcony blinds in Bangalore are in a affordable price range. they can be a good option to your place and enhance the overall style of your house.